---
---
375:445 PROBLEMS IN AQUATIC ENVIRONMENTS
- SYLLABUS -
Department of Environmental Sciences
Professor K. Irwin Keating, Ph.D. - Fall 2000. Tues. and Thurs. 4:30 - 5:50 p.m., ESNR Rm 223
---
---
To ftp image files from class:

---

TEXT
While no text is "required" and random questions, taken solely from a textbook, will NOT appear on exams, the following texts are recommended specifically because they are


- unusually informative,
- excellent sources for review of lecture materials
- for additional information on many of the topics covered, and
- relatively inexpensive for their technical content.



Gleick, Peter. 1993.
WATER IN CRISIS: A Guide to the World's Freshwater Resources
Oxford University Press, N.Y. xxiv and 473.

Laws. Edward. 1993.
AQUATIC POLLUTION: An Introductory Text (2nd ed.)
Wiley Interscience, N.Y. viii and 611.

---

---

INTENT:

INTENT: To explore, to better understand, the problems associated with aquatic environments which impose restrictions on human activities or, which are the results of human activities. (Considering the worldwide limits of water suitable for our activities, is it not intriguing that we deposit so great a concentration of undesirable materials in those waters most convenient to us?)

---

Global Problems
I. Water as a resource -- Dimensions and limits of the Hydrosphere - the amount of water currently and ultimately available for human use; limited supply and limitless demand, politics, agriculture, industry and salt (most of the water, 97%, on earth is"salty".) GEOGRAPHY makes a difference.


II. Resources in aquatic environments --Who has the right to make the rules, to claim the benefits? Law of the Sea; Fisheries Conservation and Management Act; over-fishing; nodules and other mineral resources; our fellow travelers- whales and other aquatic mammals. HISTORY makes a difference.
Specific Problems
III. Plankton: What is it? upwellings; eutrophication; krill; red tides; allelochemistry; (lunch?)


IV. Pollution: Inorganic pollutants (heavy metals); organic pollutants (pesticides, oil, N.Y. Bight;); temperature (power generation)
Helping Ourselves
V. Aquatic Toxicology: Monitoring; bioassay; (acute, chronic); culture of aquatic organisms: aquaculture.
---
---
Prof. Kathleen Irwin Keating, Ph.D.

Phone: 932 - 8012 (Messages may not be delivered?)
Fax: 908-236-7611
E-mail: kkeating@rci.rutgers.edu (Usually works very well!)
---
---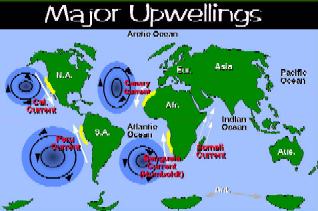 The images below, from lecture, can help you as you review class notes. They really cannot substitute for class attendance since the words that explain them are not here. Keep in mind that the entire class files are available for ftp.


---
---
SYLLABUS HANDOUT
LECTURE IMAGES - for REVIEW

TOPIC 1 - Introduction
TOPIC 2 - What is water? (Molecules, Constituents)
TOPIC 3 - pH and the Bicarbonate Cycle
TOPIC 4 - Stratification
TOPIC 5 - Rearranging Water - Aquifers, Deserts
TOPIC 6 - Dams, Irrigation
Also, read --

3 Gorges (Pro)* - Chinese Government and

Because the Chinese Gov't seems to have taken down their info server, this link will take you to a directory in which their recent information is stored. Click on the html files in order and the information will be essentially the same as that presented on their recent server.

To give you a sense of just how disturbing the flooding problems in China are, there are a few news releases from CNN in this directory.

3 Gorges (Con)* - International Rivers Network. Most ecologists offer good reasons to questions the continued building of dams all over the world.
TOPIC 7 - Supply - Global
"Freshwater" is not the same as "drinking water" -There are quantity and quality problems which impact both. This article emphasiizes "drinking water", thus quality is emphasized - but quantity problems are inherent in drinking water short falls. Note that the authors, while very authoritative and highly respected, hardly touch on the absence of water to clean and deliver. Please read through "Sources".

TOPIC 8 - Supply - U.S.
---
---
Material for the midterm ENDS HERE.
---
---
How about turning in an outline of your planned presentation? One page would be fine.
---
TOPIC 9 - LOS, FCMA - History
Some history for the LOS (from UN-FAO)
TOPIC 10 - Fisheries: The Tragedy of the Commons vs. Hunger ----
TOPIC 11 - Seafloor, Metals, Nodules
Review - Part I. Biogeochemistry and Plate Techtonics
Review - Part II. Biogeochemistry and Plate Techtonics
Seafloor
Part III. Metals and Nodules
TOPIC 12 - Plankton ----
Part I. Allelochemistry - Ubiquitous, Internicine, Biochemical Warfare
Part II. Allelochemistry - Aquatic Systems
Part III. Allelochemistry - Toxic Blooms
Part IV. Allelochemistry - Pharmacopoeia

---
---
Grades:
---